one week on and all 12 puppies are thriving. Growing like mushrooms. They are such a contented litter, we hardly hear a peep from them. Stella is doind an amazing job!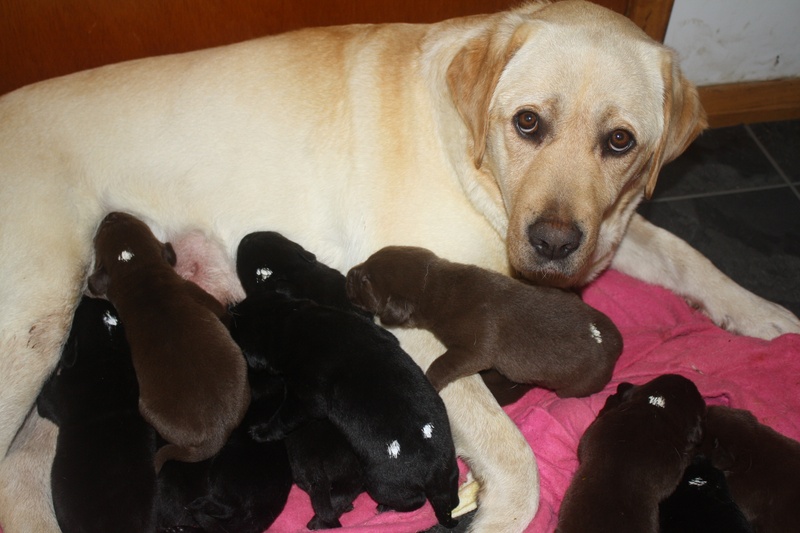 PS: the dots are Liquid Paper so I can identify them.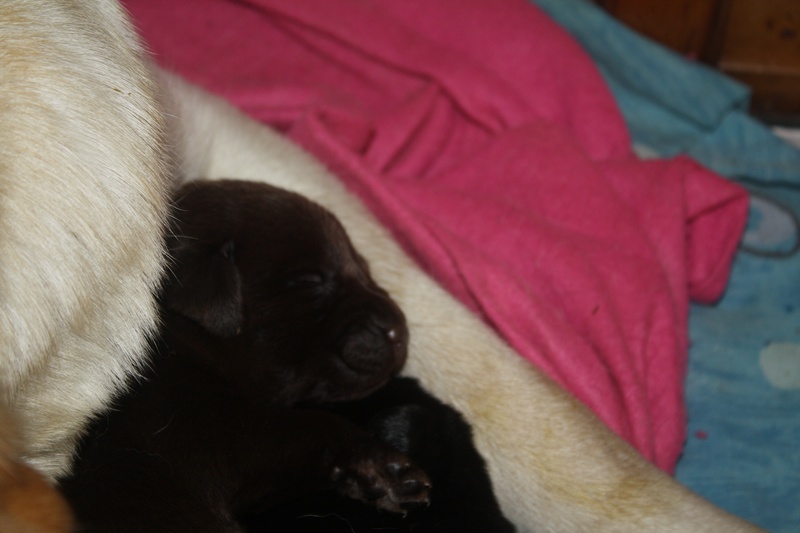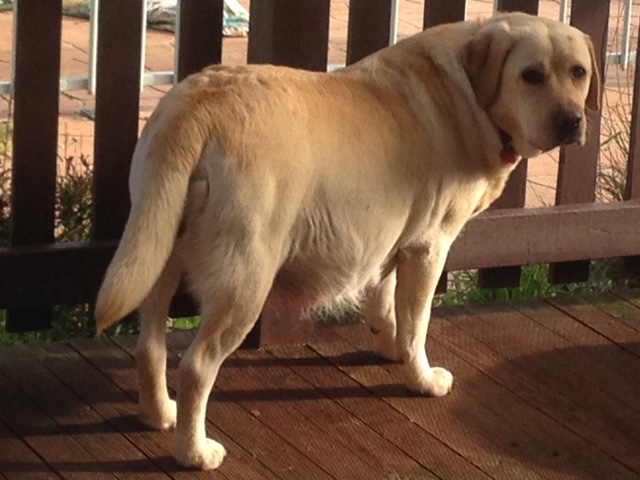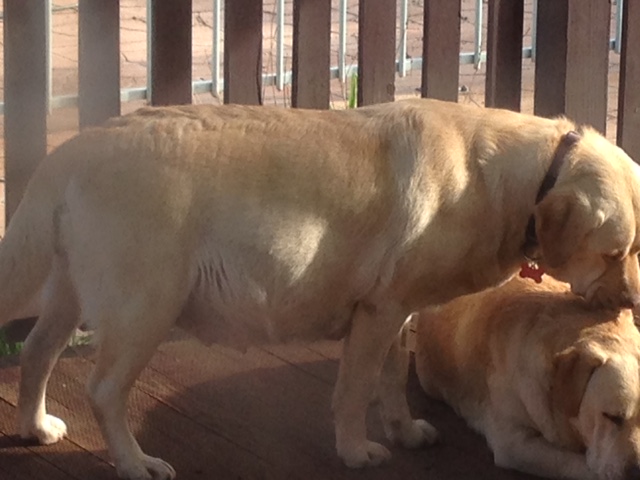 Poor Stella! I knew there was quite a few puppies in there. She was enormous! The ultrasound 3 weeks before had shown 5  but because of her thick coat it was hard to see further. As her due date approached she just kept getting bigger and bigger!
All day Monday I kept a close eye on her. She'd already moved into the labour ward (the laundry) and she was very unsettled.
Finally at 8.20 Monday night the first puppy arrived! A very big, black girl. She was breech (coming backwards) so it was not the best start for Stella's very first puppy! Stella was not happy about it all. In fact she was a little freaked out so the puppy went out to the lounge to her temproary surrogate mum, Lexi, for a bottle of warm milk and a cuddle.
An hour and a half later another girl arrived. This time a chocolate! There was much excitement amongst us all. The kids have been waiting for a chocolate Mannaview puppy for almost a decade so everybody was very happy.
Another 3 puppies arrived in quick succession- 2 chocolate boys and another chocolate girl. Then over the next 7 hours 5 more puppies arrived all black, 3 girls and 2 boys.
By this time it was 5.30am Tuesday morning and Stella was now accepting the puppies - licking them and letting them suckle. She seemd to settle and I thought "Great 10 healthy puppies! What an effort!"
I went and had a coffe and started to get ready for the day, it was almost time to milk. Then, just as I was about to walk out the door to go to the dairy Stella is up again, pushing! It's another good size, black boy.
11! Surely no more!
I rotate the puppies in shifts of about 2 hours. 4 puppies on Stella the others in a nest where it's nice and warm.
The day starts the kids are up, excited and very surprised that there are so many healthy babies.We are all in and out checking and congratulating Stella who is now very settled, sleeping and caring for the bubba's.

At 10am I go in to swap puppies and there are 5 puppies on Stella. She doesn't look to have moved and I think perhaps it's just due to sleep deprivation I miss counted how many I left on her. Then I realise theres a big chocolate girl very wet and still with the placenta attached!
Another puppy! 12! Obviously she had just arrived Stella had licked her clean and she was doing what puppies do - suckling.
12 beautiful healthy puppies! Great job Miss Stella. What an awesome mum!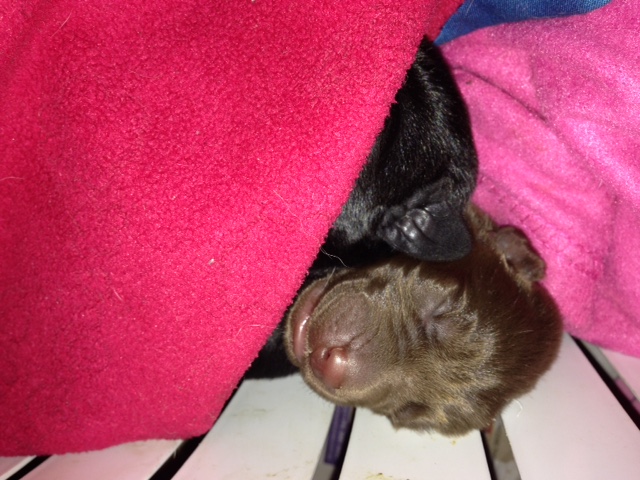 Two new babies content in the nest.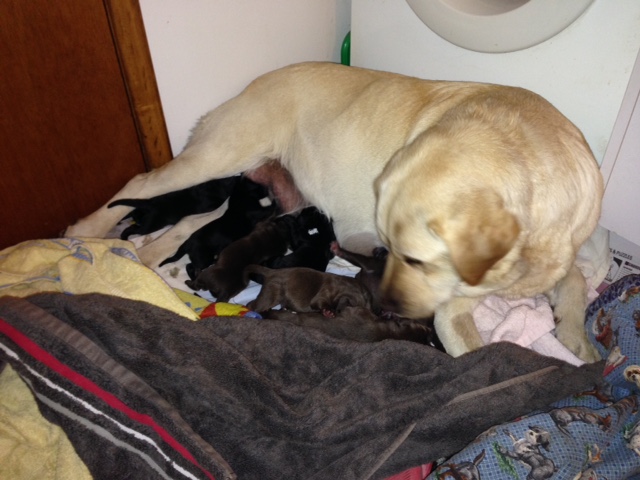 Midway through.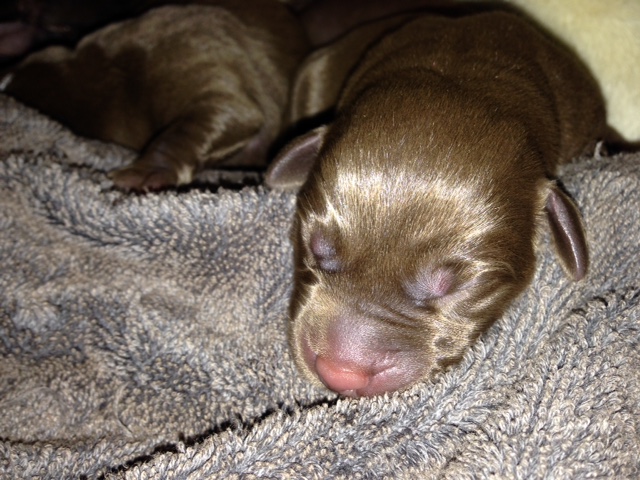 Our first chocolate puppies!